Free Shipping $75+
100% Satisfaction Guarantee
Vegan
Paleo
Keto
Gluten Free
Soy Free
No Added Sugar
Science-Backed
Organically Sweetened
Free Shipping $75+
100% Satisfaction Guarantee
Vegan
Paleo
Keto
Gluten Free
Soy Free
No Added Sugar
Science-Backed
Organically Sweetened
Free Shipping $75+
100% Satisfaction Guarantee
Vegan
Paleo
Keto
Gluten Free
Soy Free
No Added Sugar
Science-Backed
Organically Sweetened
Free Shipping $75+
100% Satisfaction Guarantee
Vegan
Paleo
Keto
Gluten Free
Soy Free
No Added Sugar
Science-Backed
Organically Sweetened
Free Shipping $75+
100% Satisfaction Guarantee
Vegan
Paleo
Keto
Gluten Free
Soy Free
No Added Sugar
Science-Backed
Organically Sweetened

PREBIOTICS Organic prebiotic fiber blend (29% of your RDA!) supports a healthy gut, immune system, mood, and hormones.*

IMMUNITY Core immune blend of vegan, bioavailable vitamins provides daily critical immune support.*

SUPER GREENS One full serving of organic TruServ® whole food greens and an organic alkalizing wheat grass, barley grass, and spirulina blend.

SUPER FRUITS Organic super fruit blend delivers antioxidants and polyphenols to support overall health.*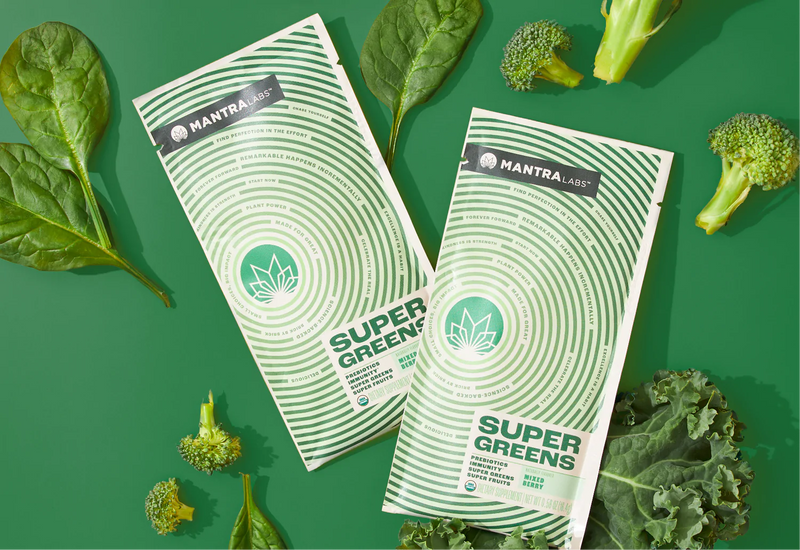 Better Ingredients. Work Better.™
ORGANIC PREBIOTIC FIBER BLEND
Only 5% of Americans get the fiber they need every day. A tastier option than prune juice, this fiber blend provides 29% of your daily needs – more fiber than many fiber supplements offer. Plus, with the focus on gut health, you'll also be supporting your immune, hormone and mood health, while helping your body absorb nutrients from your food easier. Every glass of SUPER GREENS not only nourishes and energizes you, it also helps you get more out of the rest of your food all day.
ORGANIC WHOLE FOOD GREENS BLEND
Rather than on the side of your plate, this organic blend puts the greens directly in your drink. You might not see it, but there is an entire serving of TruServⓇ whole food vegetables in there to support your daily nutritional needs. That's right – 14 kale leaves, 1 broccoli floret and 4 spinach leaves in every scoop. Add in alkalizing wheat grass, spirulina and barley grass and you can see why we call this SUPER GREENS.
ORGANIC FRUIT BLEND
Free radicals are formed during your body's everyday metabolic processes. You get even more just by breathing polluted air. When your free radicals get out of balance, they can start a chain reaction leading to oxidative stress. This organic fruit blend provides antioxidants and powerful polyphenols to help defend against excess free radicals.*
PUREWAY-C™
PureWay-C™ is a lipid fatty acid formula that absorbs quickly and is clinically studied to be retained 233% better than all other forms of ascorbate (Vitamin C) currently available.
VEGD3®
Animal lovers rejoice. We're leaving the lamb's wool and fish alone. VegD3® provides a sustainable, 100% plant-sourced, vegan alternative for the most bioavailable form of Vitamin D – Vitamin D3. With 100% of the daily value, you'll get much-needed support for your bones, mood, immune system, heart health, and so much more.*
SELENIUM & ZINC
This duo works together to help mop up excess free radicals, reducing oxidative stress, and supports your immune system.*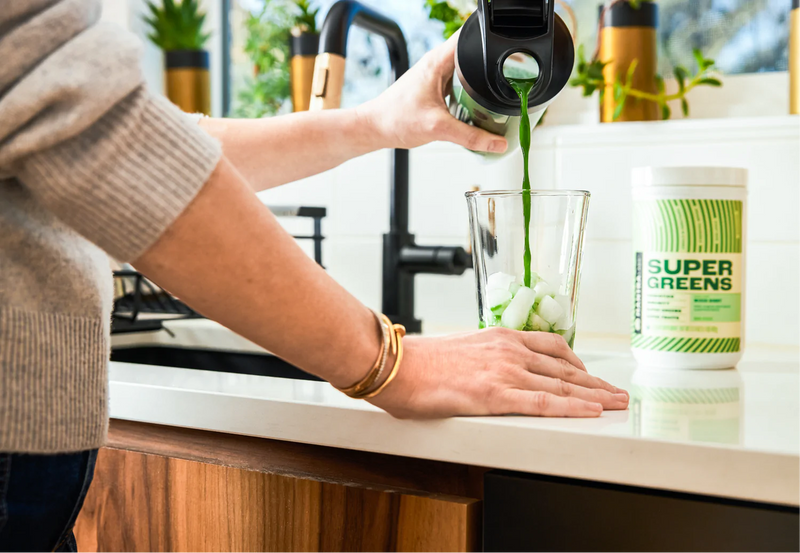 FAQ
WHEN SHOULD I TAKE SUPER GREENS?
You can take SUPER GREENS in the morning or lunchtime as a quick way to get alkalizing grasses, greens, and super fruits in. As an added bonus, SUPER GREENS has enough fiber to help satiate you so you're not hungry again half an hour later. That means it can also make a great mid-day snack if your stomach is grumbling.
WHAT IS TRUSERV®?
Glad you asked! Our TruServ® formula delivers an entire USDA-equivalent whole food organic vegetable serving in each scoop. This means in every serving you get organic, simply dried whole food real vegetables – with all their fiber and goodness. 14 kale leaves, 4 spinach leaves and 1 broccoli floret in every scoop. Not only that – SUPER GREENS is organic, tastes amazing and the whole family will love it.
HOW IS ALL THAT FIBER IN THERE?
Glad you noticed. Our SUPER GREENS actually has more fiber (almost 2x) than many fiber supplements! Not only that, our fiber is a premium organic prebiotic mix including oat, acacia and Jerusalem artichoke.
DOES SUPER GREENS CONTAIN SUGAR?
No, SUPER GREENS does not contain any sugar. It's sweetened naturally and tastes like mixed berries with a hint of apple juice.
WHAT CAN I MIX ORGANIC SUPER GREENS WITH?
SUPER GREENS mixes easily with water – without being grainy and gritty. You can also add SUPER GREENS to your favorite shake, smoothie, or fresh-squeezed juice.
HOW DOES ORGANIC SUPER GREENS TASTE?
With the natural flavors of mixed berries and apple, you'll look forward to getting your daily greens. Because when greens aren't tooth-shatteringly sweet, don't taste like a freshly mown lawn, and actually taste good, something amazing happens: you accidentally create the habit of getting a healthy dose of greens every day.