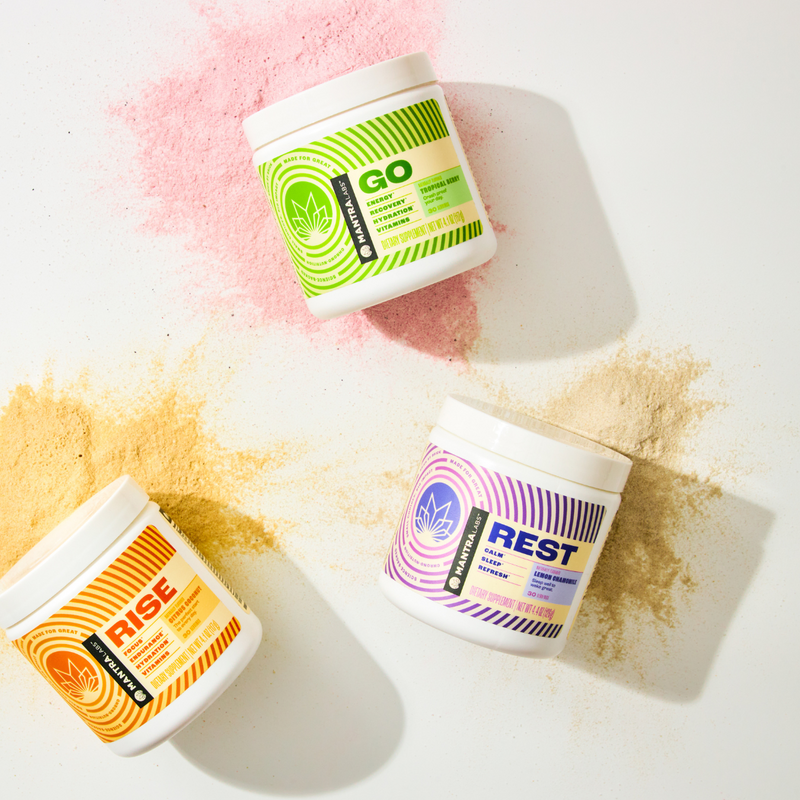 TIMING IS EVERYTHING
Welcome to the world's first biorythm matched nutrition system.
This simple, comprehensive, natural and doctor-backed system helps align your nutrition and natural biorhythms to support energy, focus, recovery and sleep.

No other system provides all of these clinically backed ingredients, perfectly dosed and synergistically blended to deliver the focused benefits you need all day and night.
FAQ
WHAT IS CHRONO NUTRITION?
Our internal biological clock has very distinct, specific nutritional needs throughout a 24-hour cycle. Our daily clock runs on circadian rhythms that are dictated by many factors such as light and darkness, body temperature and our sleep-wake cycles. This internal clock can affect our alertness, fatigue, and levels of energy throughout the day. MANTRA Labs has a solution to nurture those natural bio-rhythms and maximize our human potential during every phase of the day and night.
ARE ALL YOUR PRODUCTS PLANT-BASED & VEGAN?
Yep! Everything we make, and do, is focused on the environment, and total health (which includes the planet, animals and you – and you are technically an animal too). So for us that means everything we make is Vegan & Plant-Based.
HOW DO YOUR SUBSCRIPTIONS WORK?
We make it easy for you to build positive and healthy habits and keep your chrono-nutrition needs met. Our easy subscription service delivers the nutritional supplements you want right to your door on your schedule. You will save 15% off the standard price of all supplement orders, and receive VIP gifts and access. You can pause or cancel anytime and every shipment has our 100% satisfaction guarantee. With a subscription, you have nothing to lose and everything to gain.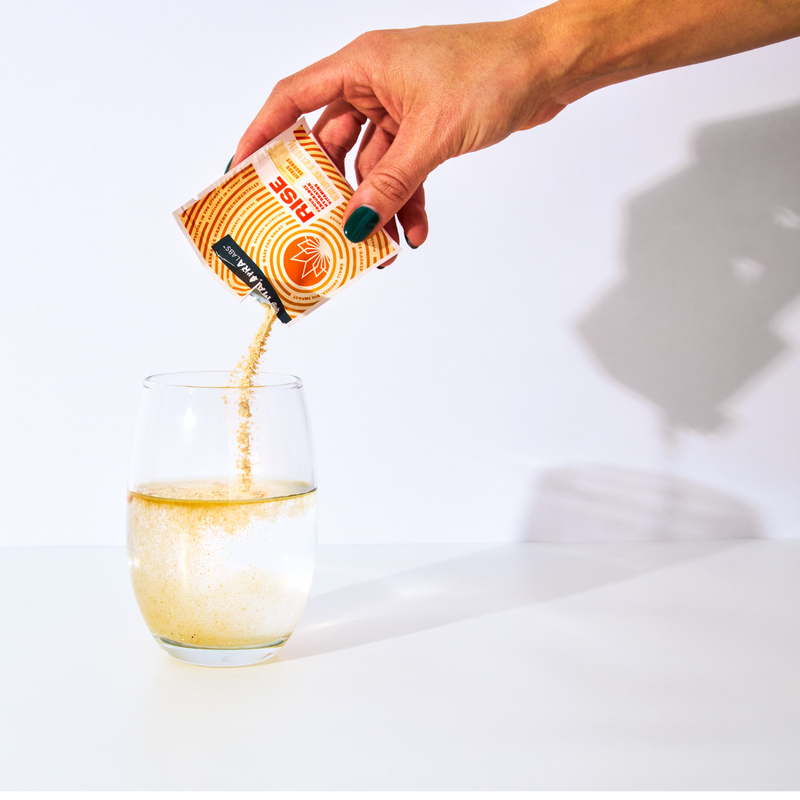 RISE
BENEFITS OF RISE
Benefits: Focus + Endurance + Hydration + Overall Health*
Get up, get focused and power up with nootropics, a plant-based endurance blend, oceanic electrolyte hydration, immune-boosting antioxidants, and 100% of your recommended daily dose of key vitamins.
RISE is your simple way to frontload your daily nutriton and gives you everything you need to start your day off great.
WHEN SHOULD I TAKE RISE?
RISE is best taken shortly after you wake up. Since you haven't had anything to drink since the night before, you're feeling the effects of dehydration.A glass of RISE with its plant-based marine minerals and electrolytes is the perfect way to rehydrate.*
DOES RISE CONTAIN CAFFEINE?
Basically none, but it can contain up to 2.5mg max of naturally-occurring caffeine from the green coffee bean extract, to be exact. A cup of coffee is 70mg-100mg for reference.

RISE contains SPECTRA™ and S7™ (two plant-based antioxidant and energy powerhouse blends), PQQ (pyrroloquinoline quinone, an antioxidant that supports mitochondrial function) and B vitamins to help the body produce long-lasting energy without caffeine.*
WHAT ARE NOOTROPICS?
Nootropics are ingredients designed to support mental functioning, increase focus, and alertness.

RISE contains both NeuroFactor® and PQQ to help support optimal brain function so your mornings can run a lot smoother (e.g. you'll have an easier time getting everyone ready before work and remember where your keys are at).

Find out more about Nootropics.
DOES RISE CONTAIN SUGAR?
No, RISE does not contain sugar. It is sweetened with organic stevia leaf extract and organic monk fruit.
WILL RISE TAKE ME OUT OF KETOSIS?
RISE contains 0 carbs and 0 sugars. As such, RISE is keto-friendly and won't take you out of ketosis.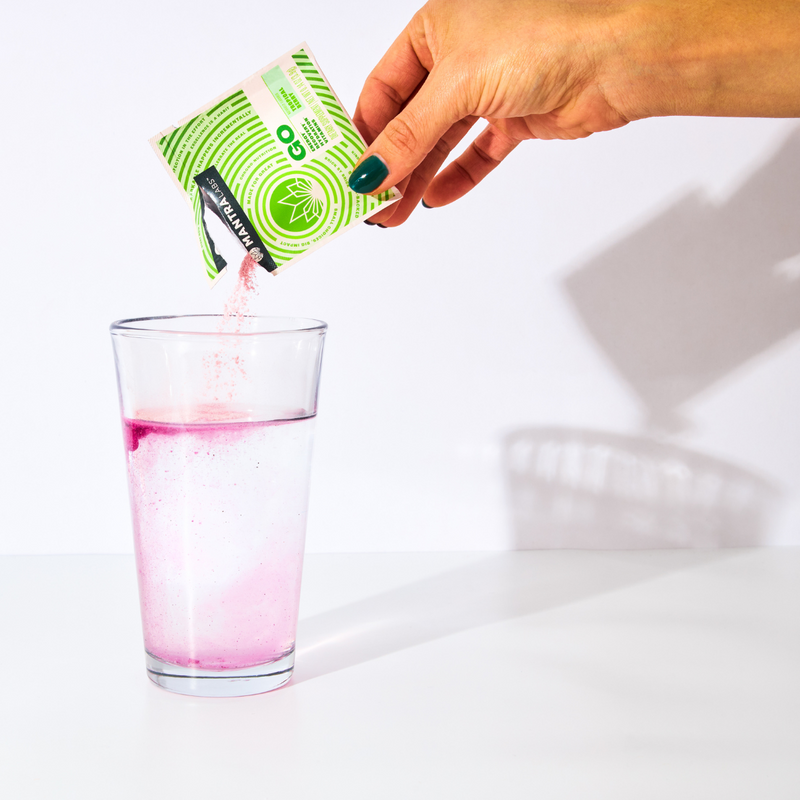 GO
BENEFITS OF GO
Benefits: Energy + Hydration + Recovery*
Take on your day with a pre-workout or anytime energy boost with clean energy, our plant-powered recovery blend, oceanic electrolyte hydration, and a vitamin boost to help you feel energized all day.
GO provides clean, sugar free energy with plant-powered recovery. Use GO to replace sodas, sugary sports drinks and beat the afternoon crash.
WHEN SHOULD I TAKE GO?
Take GO approximately 15-30 minutes before your workout or activity. Mix with 12-24 ounces of water or a protein shake and stir or shake. GO is designed to give you a sustained boost of energy when you need it most – without the crash. Use GO to power through your workout, prevent the after lunch crash or get your energy up before the kids get home.
IS GO A PRE-WORKOUT SUPPLEMENT?
Yes – a great one! If taken before your workout, GO can provide you with the energy and electrolytes you need to push you to a new PR and help keep you going strong for your entire workout. GO is not limited to being a pre-workout. You can also use it to give yourself a boost of smooth energy (no jitters) and help prevent your mid-day energy crash.
CAN I TAKE GO IN THE MORNING?
You can. You can even combine GO with RISE for an early-morning super workout boost or if you need to pack 2 hours of prep into 1 hour.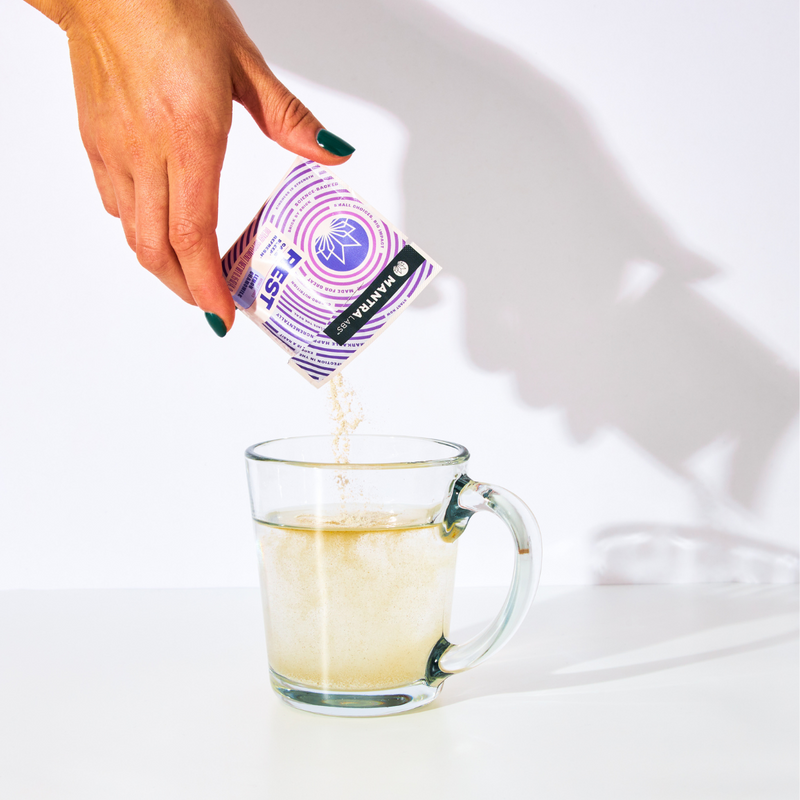 REST
BENEFITS OF REST
Benefits: Calm + Relaxation + Sleep*
This doctor-backed, expertly formulated master sleep blend contains magnesium, melatonin, GABA, L-Theanine, and adaptogen herbs.

This unique combination helps you relax, fall asleep, stay asleep, and wake up feeling rested and supercharged.
Sleep is the most overlooked aspect in health. Sleep improves cognition, immunity, energy, strength, mental health and overall wellness.
Use REST to sleep better and feel better naturally.
HOW LONG DO I NEED TO USE IT BEFORE I NOTICE RESULTS?
Many folks experience game changing sleep and rest the first night they take REST. For others, it can take 2-3 nights. The way you experience REST will vary depending on the way you spend your day. While you won't feel REST like a narcotic sleeping pill, it is designed to provide a calming effect and sleep support from the L-Theanine, GABA, herbs and melatonin. The magnesium adds a boost to this while also supporting hydration, heart health and your nervous system.
CAN I TAKE HALF A SERVING?
Absolutely! Many folks find that half a serving does wonders for them most nights. As with all things sleep and health related – you don't want to overdo it. The goal is to support your body's natural biorhythms and give it the nutrients it needs to operate properly morning, noon and night. This is what our Chrono-Nutrition System was designed to do.
WILL I WAKE UP GROGGY?
REST is carefully crafted to provide you the best sleep possible without affecting your mornings. You'll wake up fully rested and ready to attack your morning.