Powerful, plant-based nutrition to feel great.

We create innovative and totally natural formulas to do more, taste amazing, and really work.

Our team works tirelessly to bring you the best nutrition crafted clean for your mind, body and planet.

Simple, science-backed nutrition to support what makes you great.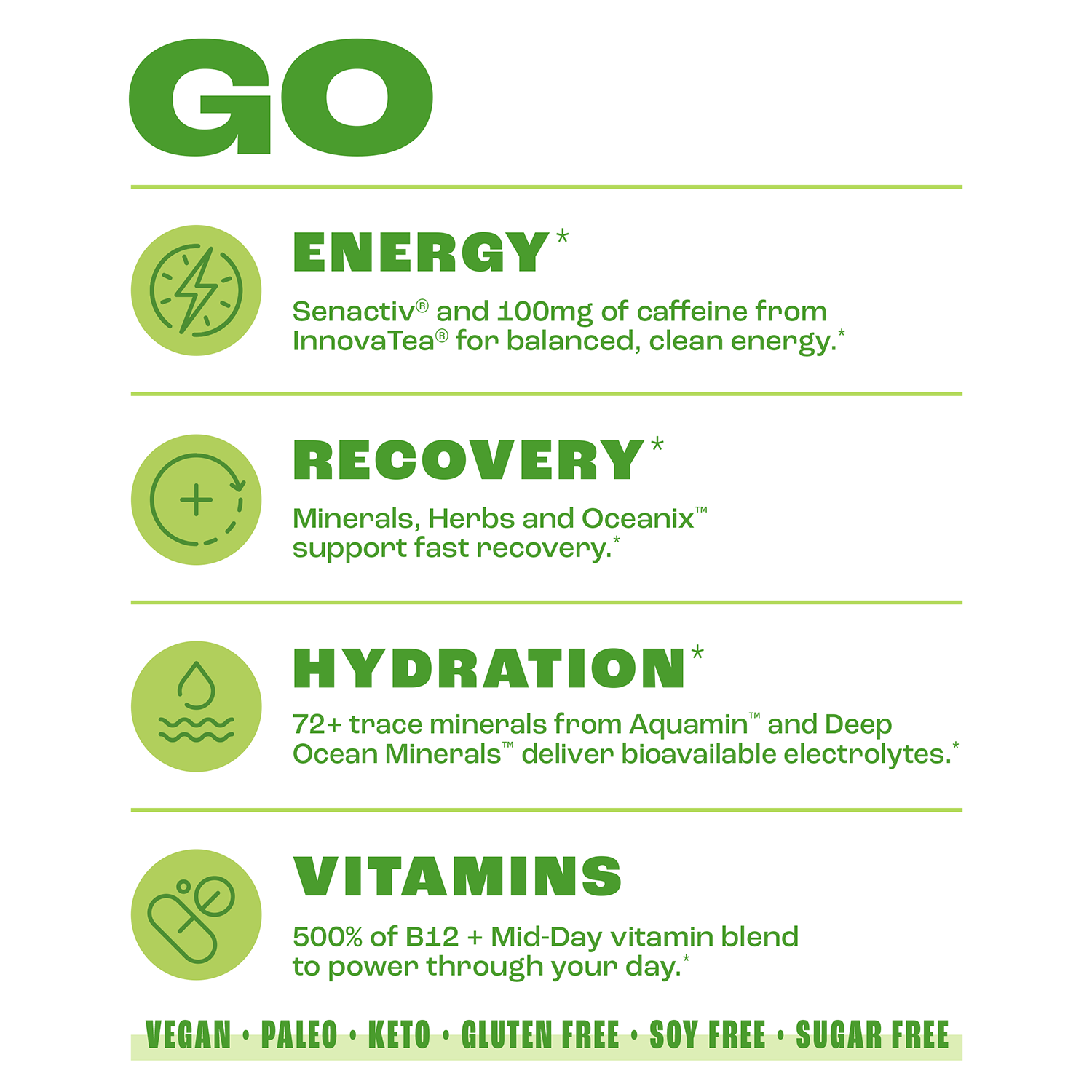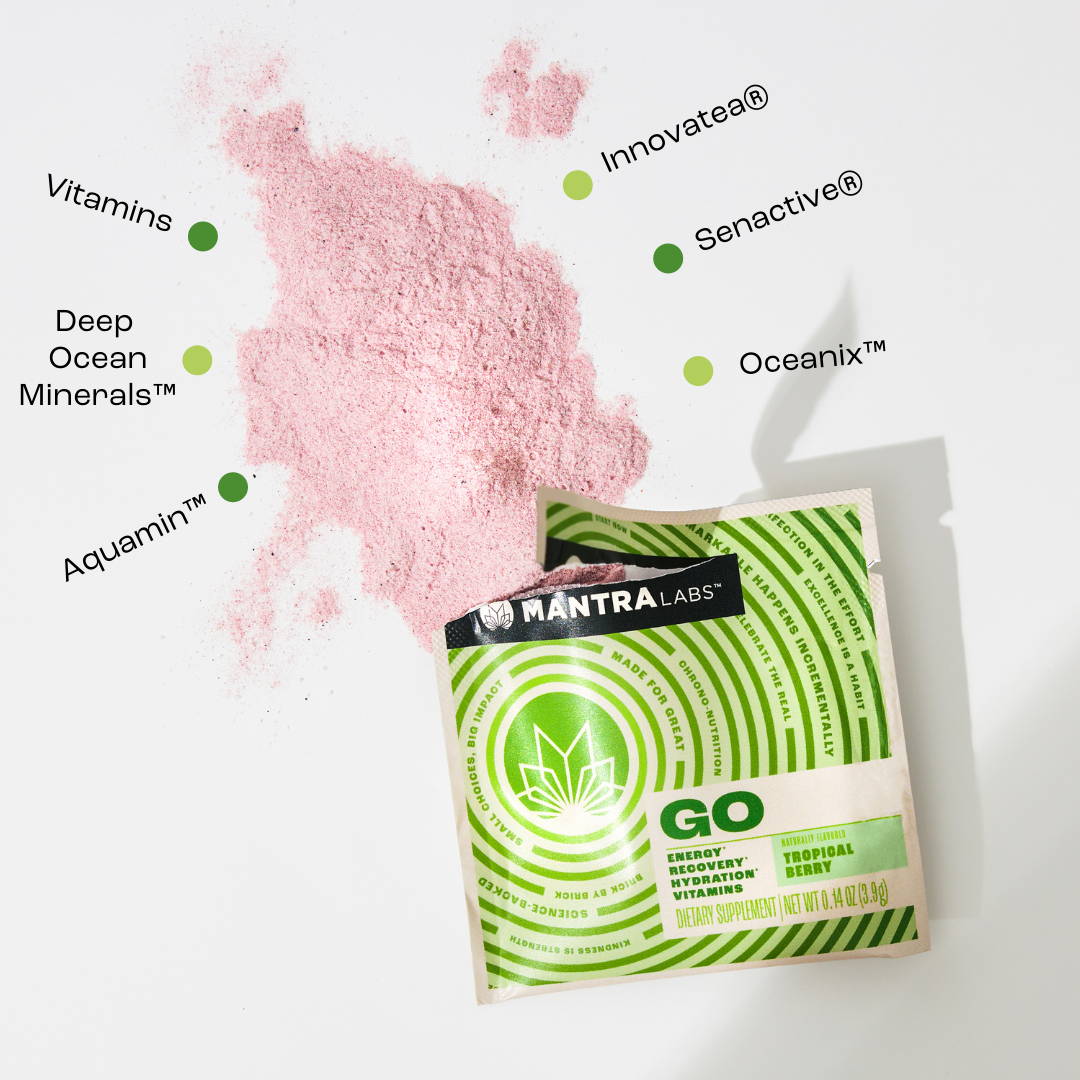 ---
Take GO approximately 15-30 minutes before your workout or activity. Mix with 12-24 ounces of water or a protein shake and stir or shake. GO is designed to give you a sustained boost of energy when you need it most – without the crash. Use GO to power through your workout, prevent the after lunch crash or get your energy up before the kids get home.Text
IS GO A PRE-WORKOUT SUPPLEMENT?
Yes – a great one! If taken before your workout, GO can provide you with the energy and electrolytes you need to push you to a new PR and help keep you going strong for your entire workout. GO is not limited to being a pre-workout. You can also use it to give yourself a boost of smooth energy (no jitters) and help prevent your mid-day energy crash.
CAN I TAKE GO IN THE MORNING?
You can. You can even combine GO with RISE for an early-morning super workout boost or if you need to pack 2 hours of prep into 1 hour.
---
---
HOW LONG DO I NEED TO USE IT BEFORE I NOTICE RESULTS?
Many folks experience game changing sleep and rest the first night they take REST. For others, it can take 2-3 nights. The way you experience REST will vary depending on the way you spend your day. While you won't feel REST like a narcotic sleeping pill, it is designed to provide a calming effect and sleep support from the L-Theanine, GABA, herbs and melatonin. The magnesium adds a boost to this while also supporting hydration, heart health and your nervous system.
CAN I TAKE HALF A SERVING?
Absolutely! Many folks find that half a serving does wonders for them most nights. As with all things sleep and health related – you don't want to overdo it. The goal is to support your body's natural biorhythms and give it the nutrients it needs to operate properly morning, noon and night. This is what our Chrono-Nutrition System was designed to do.
REST is carefully crafted to provide you the best sleep possible without affecting your mornings. You'll wake up fully rested and ready to attack your morning.
---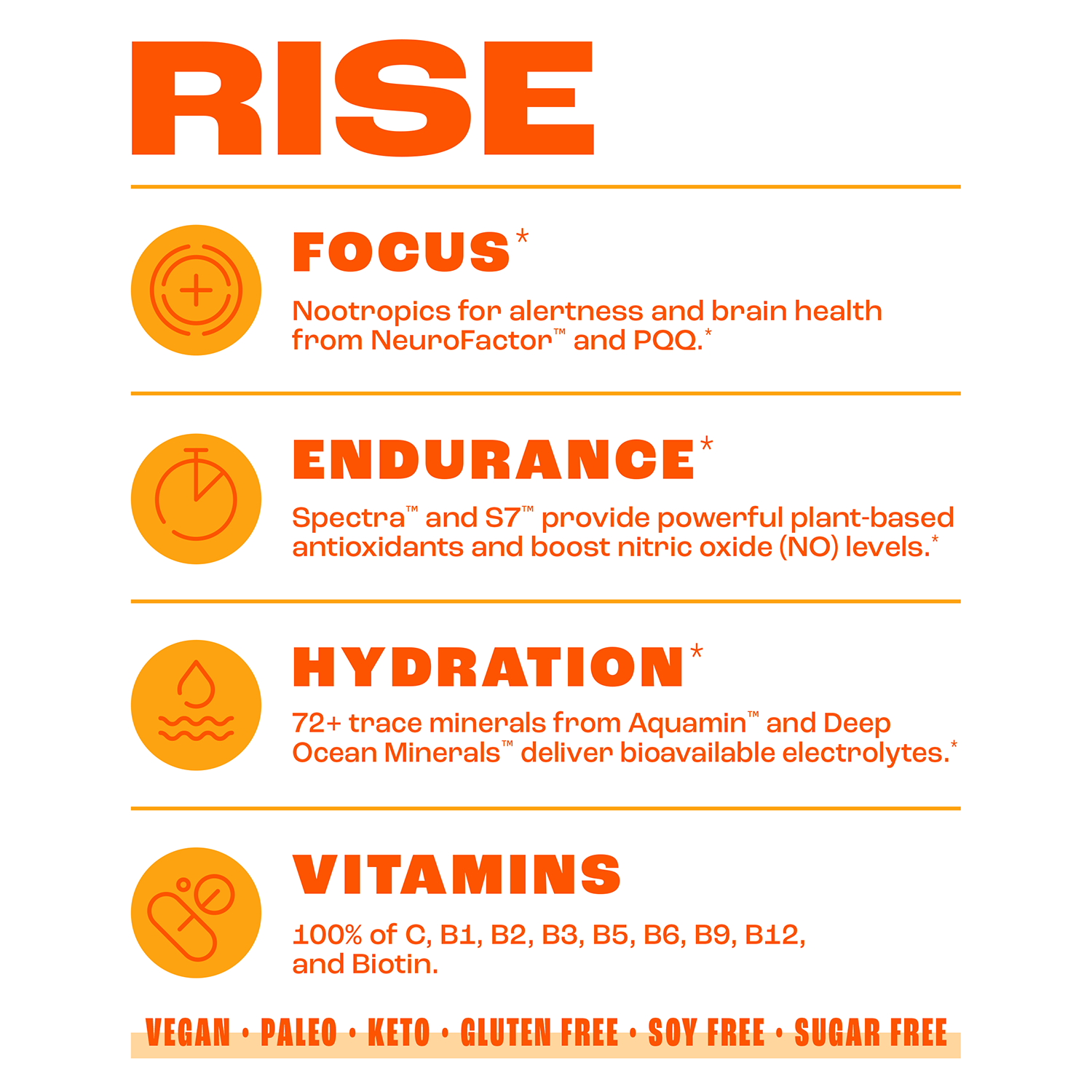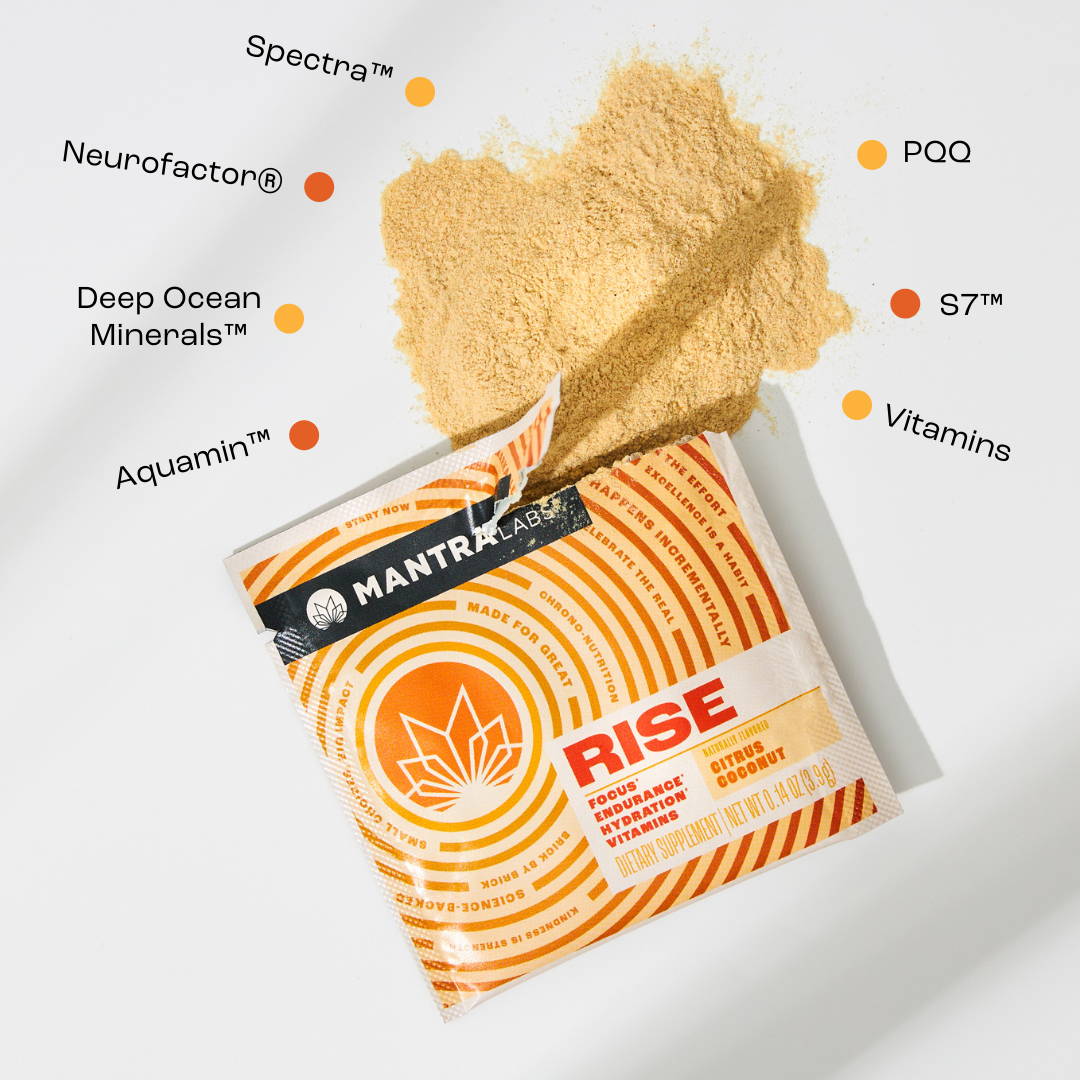 ---
RISE is best taken shortly after you wake up. Since you haven't had anything to drink since the night before, you're feeling the effects of dehydration.

A glass of RISE with its plant-based marine minerals and electrolytes is the perfect way to rehydrate.*
DOES RISE CONTAIN CAFFEINE?
A tiny bit, (2.5mg max of naturally-occurring caffeine from the green coffee bean extract, to be exact).

RISE contains SPECTRA™ and S7™ (two plant-based antioxidant and energy powerhouse blends), PQQ (pyrroloquinoline quinone, an antioxidant that supports mitochondrial function) and B vitamins to help the body produce long-lasting energy without caffeine.*
Nootropics are ingredients designed to support mental functioning, increase focus, and alertness.

RISE contains both NeuroFactor® and PQQ to help support optimal brain function so your mornings can run a lot smoother (e.g. you'll have an easier time getting everyone ready before work and remember where your keys are at).
No, RISE does not contain sugar. It is sweetened with organic stevia leaf extract and organic monk fruit.
WILL RISE TAKE ME OUT OF KETOSIS?
RISE contains 0 carbs and 0 sugars. As such, RISE is keto-friendly and won't take you out of ketosis.
---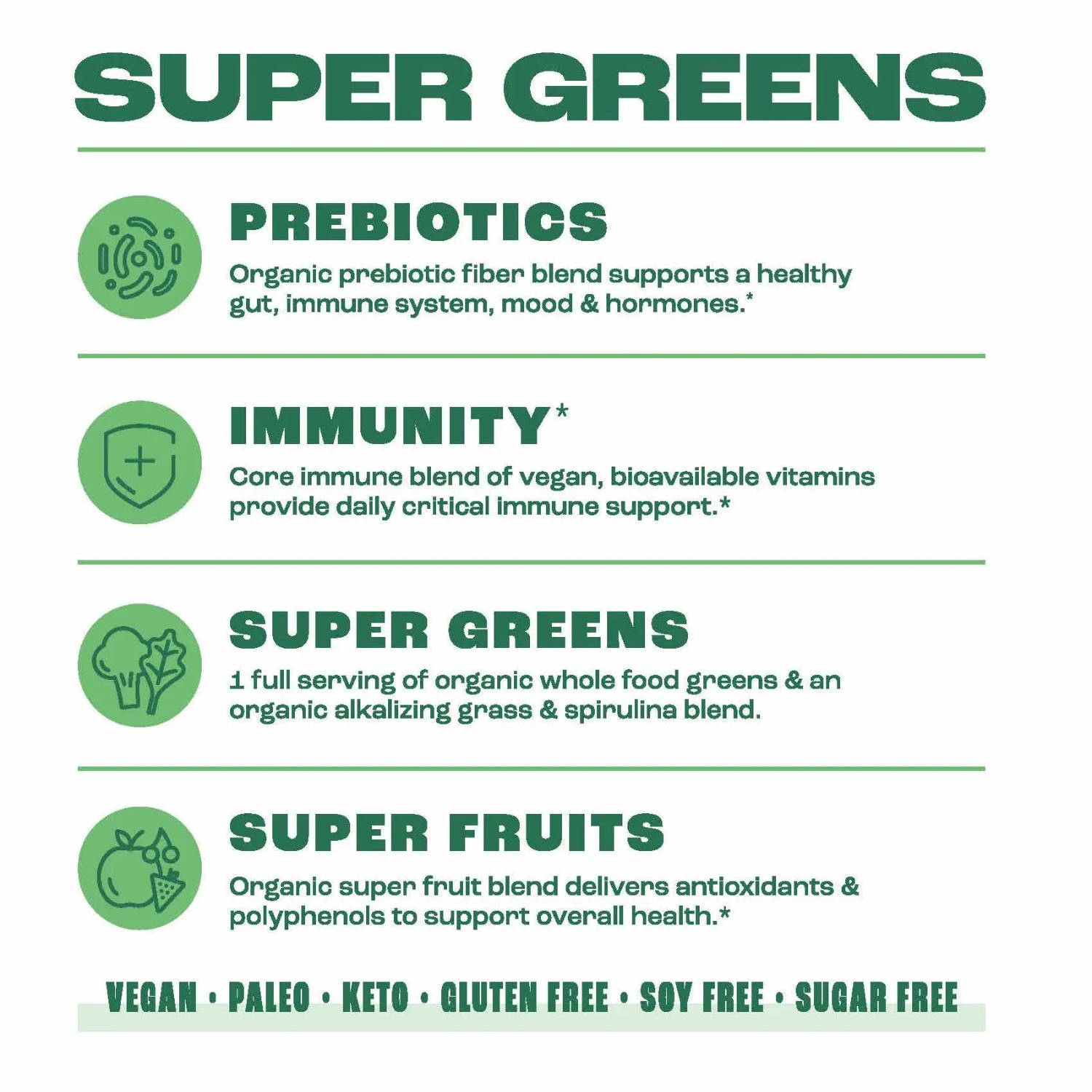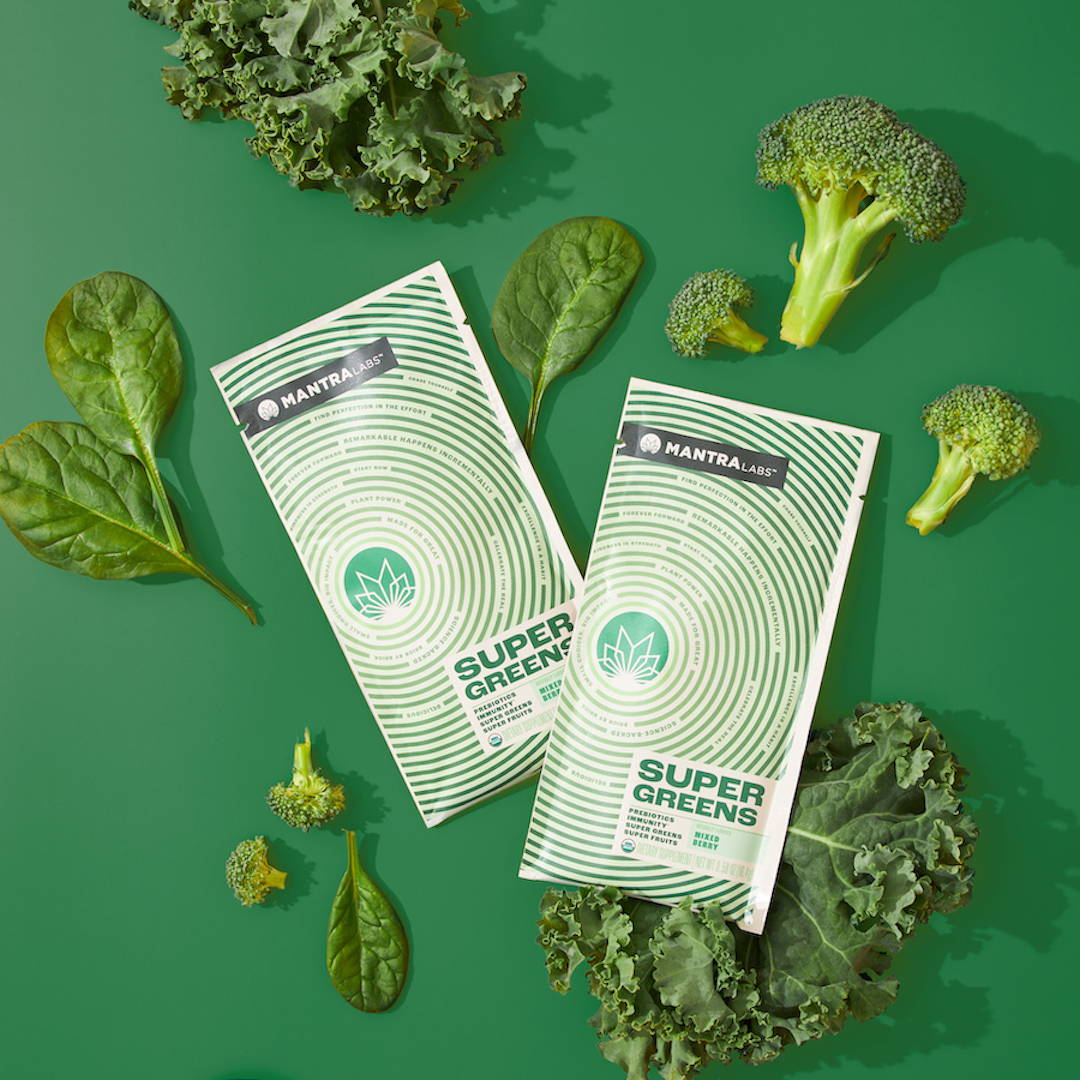 ---
WHEN SHOULD I TAKE SUPER GREENS?
You can take SUPER GREENS in the morning or lunchtime as a quick way to get alkalizing grasses, greens, and super fruits in. As an added bonus, SUPER GREENS has enough fiber to help satiate you so you're not hungry again half an hour later. That means it can also make a great mid-day snack if your stomach is grumbling.
Glad you asked! Our TruServ® formula delivers an entire USDA-equivalent whole food organic vegetable serving in each scoop. This means in every serving you get organic, simply dried whole food real vegetables – with all their fiber and goodness. 14 kale leaves, 4 spinach leaves and 1 broccoli floret in every scoop. Not only that – SUPER GREENS is organic, tastes amazing and the whole family will love it.
HOW IS ALL THAT FIBER IN THERE?
Glad you noticed. Our SUPER GREENS actually has more fiber (almost 2x) than many fiber supplements! Not only that, our fiber is a premium organic prebiotic mix including oat, acacia and Jerusalem artichoke.
DOES SUPER GREENS CONTAIN SUGAR?
No, SUPER GREENS does not contain any sugar. It's sweetened naturally and tastes like mixed berries with a hint of apple juice.
WHAT CAN I MIX ORGANIC SUPER GREENS WITH?
SUPER GREENS mixes easily with water – without being grainy and gritty. You can also add SUPER GREENS to your favorite shake, smoothie, or fresh-squeezed juice.
HOW DOES ORGANIC SUPER GREENS TASTE?
With the natural flavors of mixed berries and apple, you'll look forward to getting your daily greens. Because when greens aren't tooth-shatteringly sweet, don't taste like a freshly mown lawn, and actually taste good, something amazing happens: you accidentally create the habit of getting a healthy dose of greens every day.
---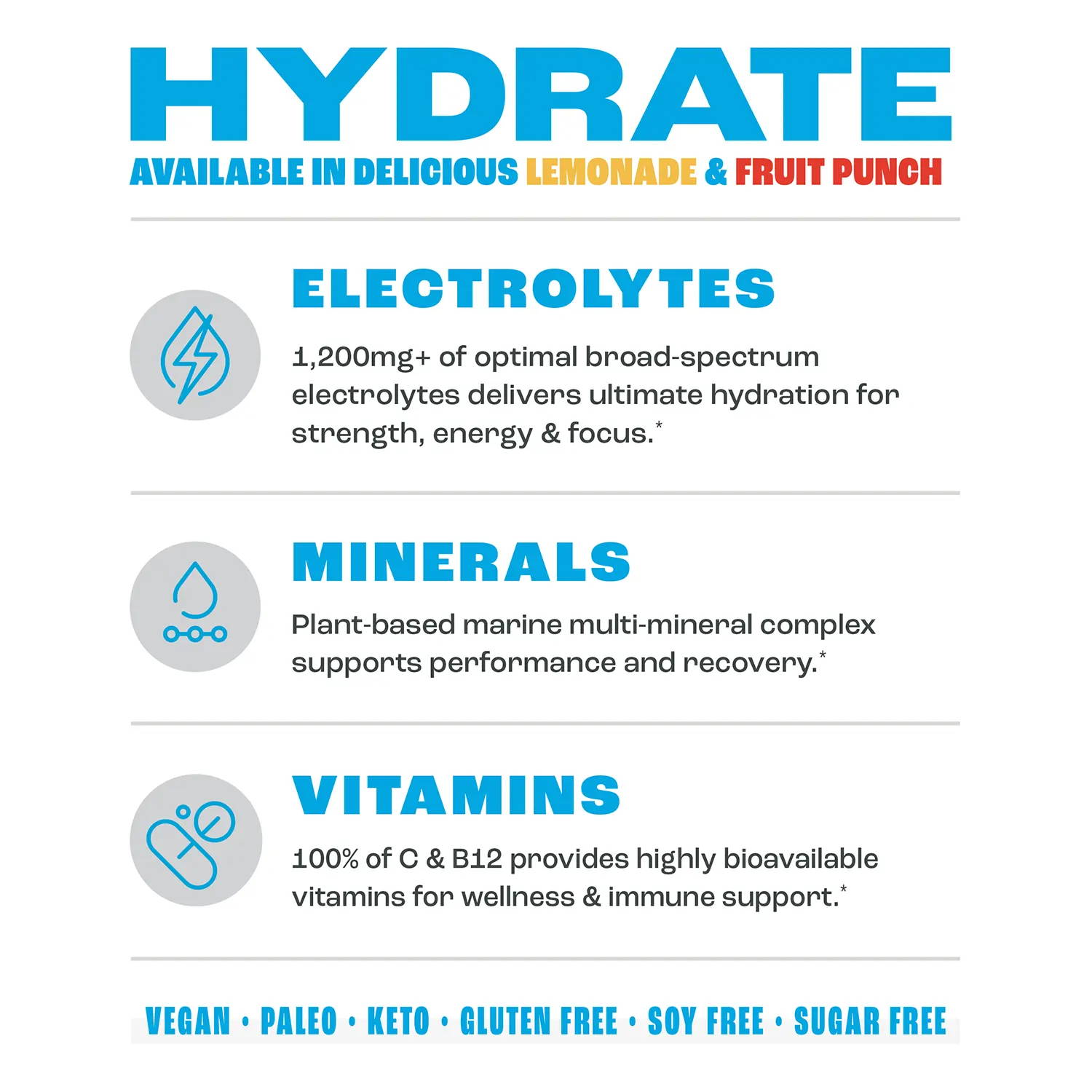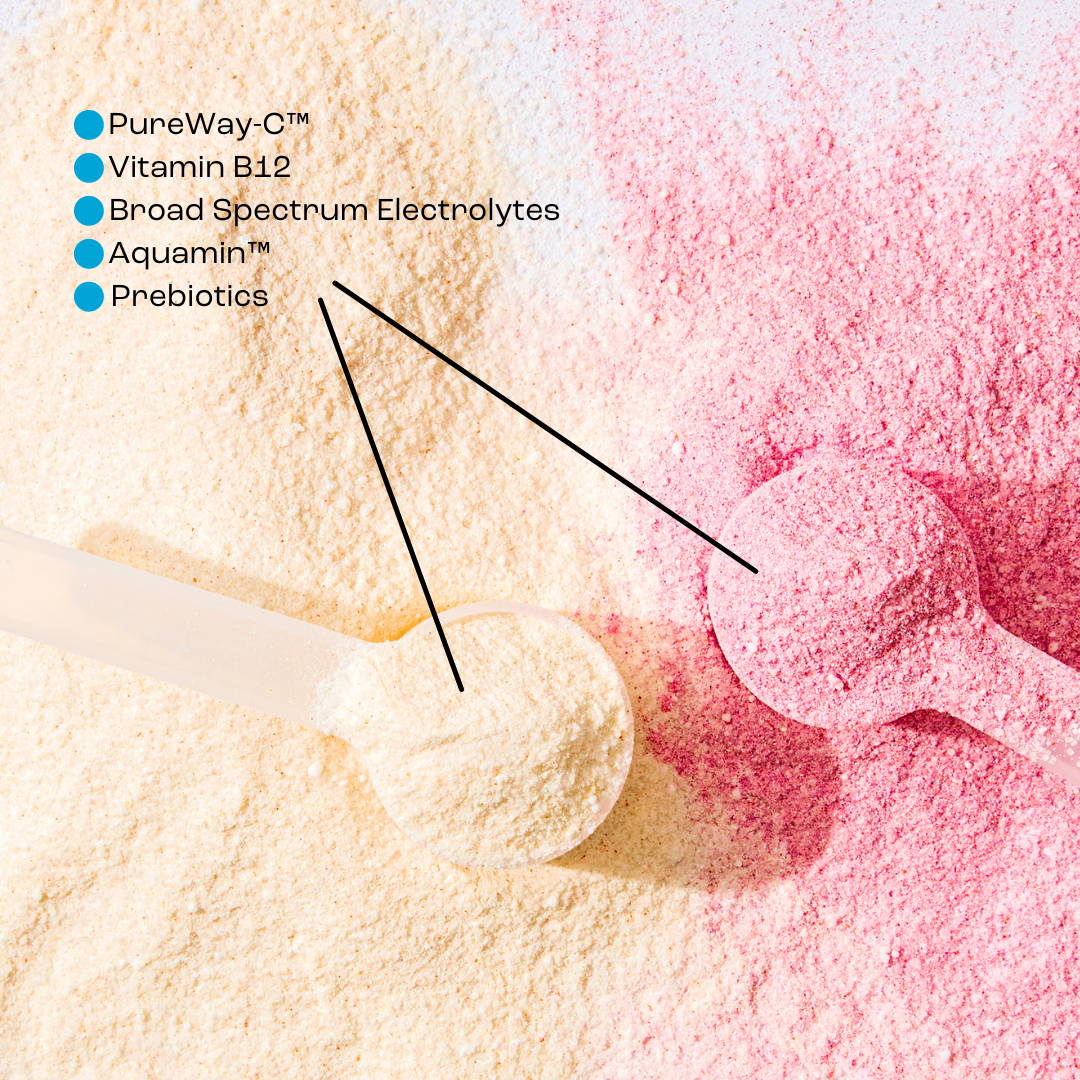 ---
WHEN SHOULD I USE HYDRATE?
There is no wrong time to take HYDRATE, but there are times when you need it more – when you're exercising, you're going to be outside in the sun, or you realize you haven't had much water during the day. Anytime you are going to be sweating, you should take HYDRATE before, during and after. You'll want the electrolyte, vitamins, antioxidants, and water reserves before and you'll need them after to help replenish what you've lost after. HYDRATE should also be taken before and after you fly. The humidity level in airplanes is less than 20% (less than half of what your body is used to) causing dehydration and jet lag. This convenient electrolyte drink mix can go through TSA and be mixed with water once you arrive at your gate.
HOW DO I KNOW IF I NEED TO HYDRATE?
Always first thing in the morning. You haven't had anything to drink since before you went to bed. Rehydrating first thing helps give you the energy, endurance and focus you need to meet the day. Bad breath? If you don't drink enough water, food particles and bacteria will make their presence known. Regularly wash them down with HYDRATE (which has no sugar, which can also give you bad breath) or just a glass of water. You are having trouble focusing. Proper hydration is key for focus and proper brain functioning. Water and electrolytes are critical for your brain to send signals and process information quickly and efficiently. You feel tired. Proper hydration is key for focus and proper brain functioning. Water and electrolytes are critical for your brain to send signals and process information quickly and efficiently. You feel weak while exercising, playing with the kids, or just in general. If you're struggling when you normally don't, it might be that you haven't hydrated adequately. Chances are also good your body is trying to tell you something: you're lacking essential nutrients, electrolytes, and hydration. To perform your best, you need to be hydrated and support your muscles and nervous system with key electrolytes.
WHY DOESN'T HYDRATE HAVE SUGAR?
Many electrolyte hydration mixes contain sugar, but your body doesn't need it in normal everyday activities – including heart-pounding workouts where you give your absolute all. Where sugar becomes important is in severe dehydration scenarios (think famine, extended bouts of diarrhea, etc.). What you are looking for with hydration for healthy individuals is to get the water and electrolytes you lose through exercise and activity replaced. You will have plenty of sugar (glucose) in your system from normal eating. HYDRATE contains 0 sugar so you get the hydration you need without the sugar you don't.
---
"I used it, loved it and felt the difference - most effective hydration, energy and recovery supplements I have ever tried. These are game changers."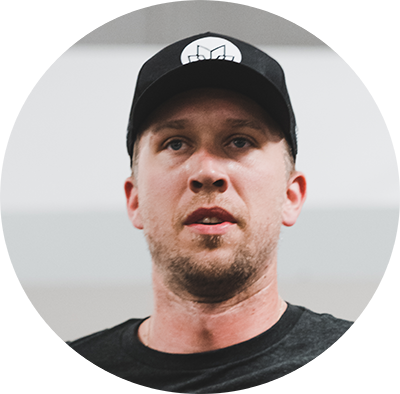 - Nick Foles
Pro Football Quarterback and SB Champion
"Great Product
I can really feel the difference in my body when I use Hydrate. I like to use it after particularly dehydrating days out in the sun, and it always helps!"


"Rise and shine!
Rise is my favorite! The flavor is amazing! I crave it first thing in the morning...It's my get up and go! No more morning grogginess and no more pots of black coffee! Replacing all that caffeine with good nutrition, seeing and feeling the benefits! Good morning Mantra makes for a great day!"